Corset tops puts women on top!
There are basic rules in choosing the right underwear for transparent, loose, or revealing outfits.
Every woman wants to show as much as possible some naked skin that spoils her with warmth. Such dresses, blouses loose, jeans, shorts or pleated skirts make their way into our personal wardrobe and complete outfits worn in hot days. To complete a summer's look, important details, not ignorant, is sexy underwear, and especially corset tops. The barrier between domestic and urban, intimate and public, is braked by wearing sexy underwear that highlights "assorted body's parts" in a very high fluid way and often leave them at sight of all. When you choose a fine and transparent silk blouse, or as a short summer, evening dress does not want you to match it with molded and thin material sexy underwear? A corset tops with transparent straps should be the perfect choice for this elegant dress.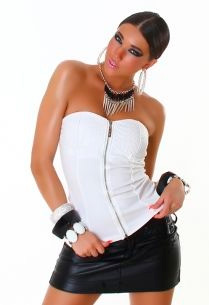 Choosing and matching these naughty lingerie elements should apply with very simple rules, which may help women to create the perfect outfit combination that will highlight her in the best possible way.
Rule 1: Buy only suitable underwear!
Even if you can afford to buy a larger number, always choose lingerie sexy that suits you. A cup more or less will deform the bodyline and it will look bigger/lower, and in this case will be false highlights, which will not help. Let's not discuss the appearance of a pair of tops with a smaller number who will rise unsightly, or a couple more, so that you could easily get lost on the way!
Rule 2: Have at least one set of bed or nude linens!
For combinations in which transparent blouses have strong prints or for thin and fine dresses, the sexy underwear must be a colored one. If you feel inspired to combine catwalk trends correctly as prints, the best choice is beige nude linen.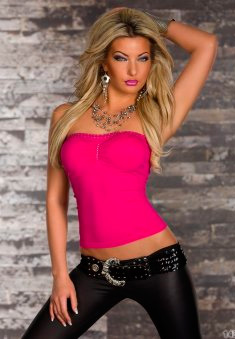 Rule 3: Choose your underwear with right chest conformation!
If you have a larger chest conformation, patterns with sponge or push-up is not the right choice for you. In addition, if you have small breasts, you should not exaggerate with a model with a lot of foam, which raise and raise in excessive way your breasts. Remember: regardless of conformation and breast size after choosing a corset, it should not alter their shape and bust line.
Rule 4: Pay a particular attention to material!
Even if the chapter you will find many diverse models of corsets, analyzes material and his cut. Avoid, especially in summer, the polyester, and plastic parts in the composition and opt for cotton. Also, although they are very chic for hot summer days the silk and satin are the best and "soft" materials that felt on your body.
First, for underwear, especially corset tops that can be watched and let the eyes of others, reveals an intimate part of your self-image help in training, that person history, stylish … or not. The tops you're wearing, especially in light shades, must be clean, not to be torn or broken. Then, for stylish dresses, strapless is more elegant to quit the transparent plastic corset straps and choose a strapless model or silicone cups for deep necklines. When you have questions at any shop lingerie, you will get complete information.Rule 5: Great attention to detail!
Increasingly more women are becoming aware that they must develop not only in terms of career, but also in all aspects of family life, career, in terms of health and even of personality. This made ​​women to continuously improve their skills, making them more demanding when it comes to the ideal home, cars and even wardrobe things.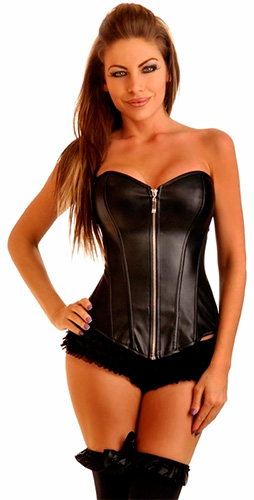 While valued business suits, dresses and other fashion items you have in the wardrobe, you should think about the things you wear when you are about to spend passionate nights. Sexy sleepwear is often one of the most neglected parts of a woman's wardrobe.
Sexy women linen night sleep is something necessary in a woman's wardrobe. Besides the fact that it will make sleep more comfortable there are several other reasons why you really need to have such clothing. Sleepwear for women can be a pair of pajamas, a comfortable short dress, nightshirts, night jacket, robes, and corset tops. Since you might not feel very comfortable in such clothes at night, you must choose what you really want and what fits your style. When
Women often complain that they are in the best mood when evening comes. Improper sleepwear is one of the problems of women and yet the irony is, they are still used in spite of its sprawling causing you to seem greater. Therefore, you should learn how to find the right type of sleepwear. Okay so you can choose the perfect type of sleepwear is primarily the dress that will be able to highlight the qualities of the body and to hide defects. If you have long and beautiful legs, choose a short nightdress with ruffles. This dress must be cotton or silk. If you have normal female forms, a cord and a special cut corset will be a perfect choice.you choose sleepwear tops, you must have two things in mind: comfort and quality.
Besides functional purposes, make the night lingerie reflects your personality. Sleepwear can also provide a spark in your relationship.
Choosing suitable night linen with or without corset tops is not a fad, but rather means choosing lingerie that reflects your personality and style. Because this is the most important thing: to feel yourself and feel amazing!